Worm Gear Screw Jack Working Principle, Screw Jack Working Principle, How Does a Jack Screw Work, How a Screw Jack Works, Introduction of Screw Jacks.
A Screw Jack (also known as a Jack Screw, a Worm Screw Jack, a Machine Screw Jack or a Lead Screw Jack) is a devise used to convert rotational motion into linear motion. It utilises the property of a screw thread providing a mechanical advantage i.e. it can be used to amplify force. It is a mechanical motion control device used for lifting heavy weight objects, push or pull an object. The key components of screw jacks are trapezoidal lifting screw, worm screw, worm gear and gear housing. Worm screw is rotated manually (manual screw jack) or by a motor (electric screw jack). The screw jack working principle: Worm screw rotate the worm gear; the rotating worm gear move the lifting screw up and down in linear motion way. If input a small rotation force on worm screw, it can amplify force from lifting screw shaft. This mechanical advantage property is good for raising and lowering maintenance platforms, opening and closing air dampers, oven doors, sluice gates, adjusting tooling machine beds.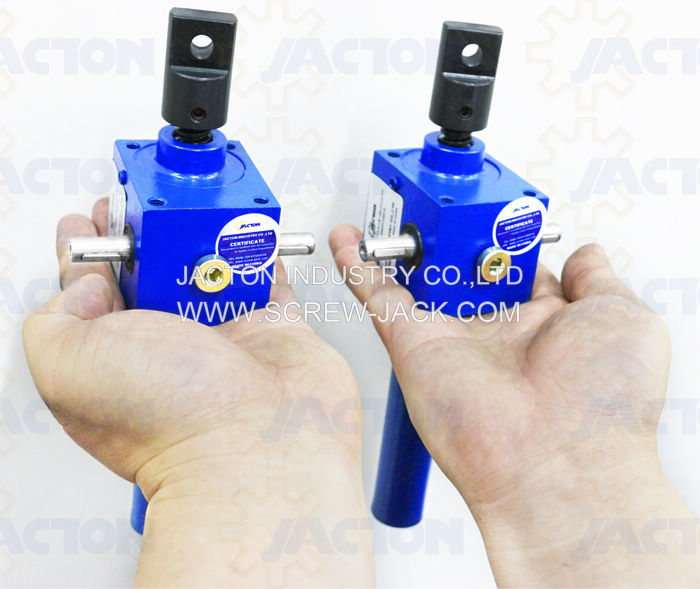 Available in three different configurations
Translating Screw Jack: The rotation of the worm wheel acts directly on the lead screw and the lead screw translates linearly. Unless the end of the lead screw is fixed (dependent on customer requirements), the lead screw will tend to rotate due to friction between the screw threads.
Translating Keyed Screw Jack: As above but the lead screw is keyed such that it cannot rotate. This is important if the lead screw end is not to be fixed to the load. Both the keyed and un-keyed translating screws are commonly used in applications where more than one screw jack is attached to a common load.
Rotating Screw Jack: The lead screw is fixed to the worm wheel so rotation of the worm wheel causes rotation of the lead screw thus translating the nut along the lead screw when the nut is attached to the load.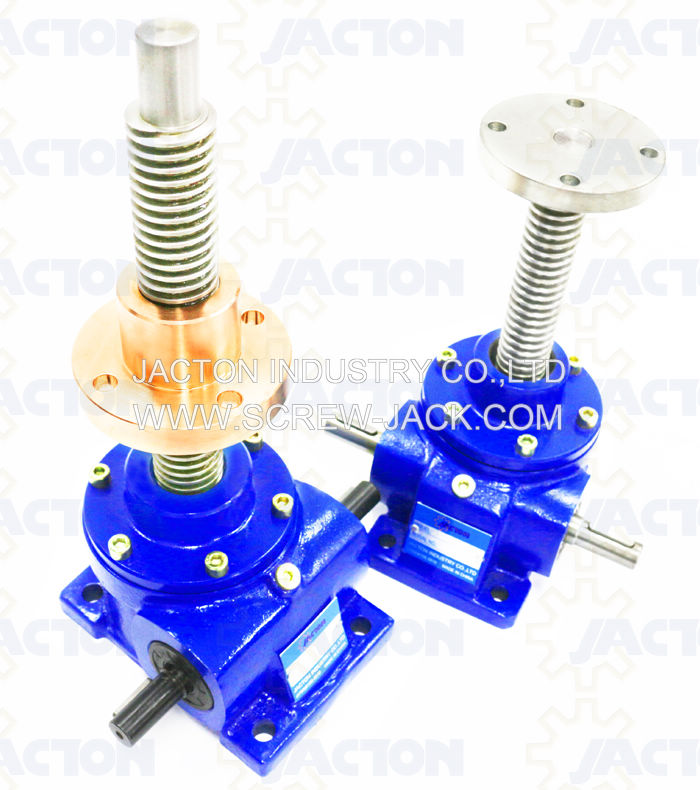 Translating Screw Jack System:
The lead screw ends are to be attached to a common load. Clearance is required under the bottom mounting plane of the jack body to accommodate the translating screw cover.
Rotating Screw Jack System:
The lifting nuts translate. Clearance under the bottom mounting plane of the jack body is not required but allowance must be made in the lifting platen design to allow the platen to pass over or past the lifting screw.