The gearboxes of
JTG Series Bevel Gear Acme Screw Jacks
are same dimensions as JT Series Classic Miter Gearboxes. Means, same center distance, making them an ideal choice for complete lifting systems. These improvements will require a less in human and material resources, also save much cost and time. Bevel Gear Acme Screw Jacks offer higher efficiency, higher lifting speed, higher duty cycle and longer lifespan than Worm Gear Machine Screw Jacks. Bevel gear Acme screw jacks with single lead screws provide the benefits of a self-locking screw, with double lead screws offer even greater travel speed. Can be mounted in any attitude. Generally maintenance free.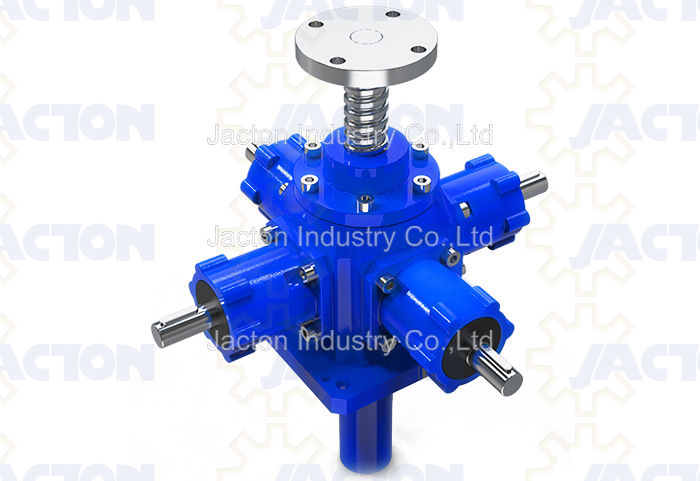 Bevel Gear Acme Screw Jack Features
* Higher efficiency, higher lifting speed, higher duty cycle, longer lifespan
* Static load capacity from 400 kgf to 3500 kgf. Dynamic load capacity from 200 kgf to 2600 kgf.
* Self locking ACME screw diameter from 18 mm to 63 mm.
* There are no "standard" travel lengths, built to specification.
* Upright or Inverted mounting. Available in tension or compression loads.
* Translating, Anti-Rotation Keyed, and Rotating screw designs.
* Standard with 1-start screw, custom 2-starts screw offers increased travel speed and require a brake or external locking device to hold position.
* Screw Ends: top plate, clevis end, plain end, threaded end, fork end, rod end.
* Can be operated by manually operated or by electric motor driven.
* Single unit use, or complete jacking system including gearmotors, bevel gearboxes, connecting shafts and couplings for dual or multiple jack arrangements.
* Optimal for low-speed operation: The driving system has less noise because machinery can be driven at a lower input speed.
* Simple and effective solution in comparison with hydraulic and pneumatic systems.
Bevel Gear Acme Screw Jack Material
* Bevel Gears Units:
Lapped together in pairs, high quality alloy steel, case hardened.
* ACME Screw:
S45C. Custom stainless steel.
* Input Shaft:
Hardened, alloy steel. Custom stainless steel.
* Drive Sleeve:
High strength bronze.
* Travel Nut and Safety Nut:
High strength bronze.
* Housing:
Ductile Iron.
Bevel Gear Acme Screw Jack Specifications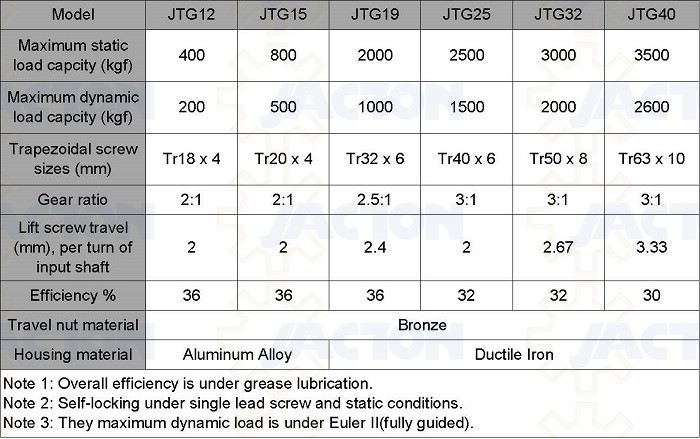 Bevel Gear Acme Screw Jack Accessories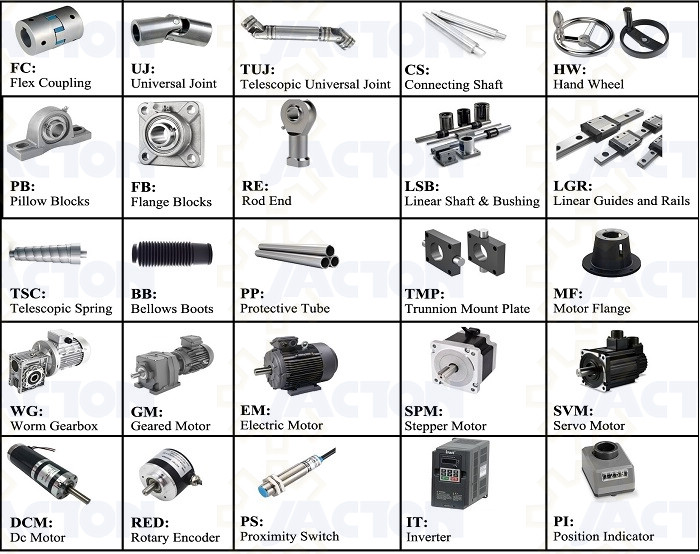 * Motorized driven (AC or DC)
by asynchronous motors (normal, YEJ brake, YVP variable frequency, B explosion proof, D multi-speed), stepper motors, servo motors with encoders and controllers. IEC motor flange or NEMA C-Face motor adapter for connect with motors. Frequency inverters.
* Manually operation
by Aluminum handwheels, or Cast iron handwheels.
* Connection Devices:
Couplings. Universal joints. Telescopic universal joints. Connecting shafts.
* Screw Protective Devices:
Bellows boot. Telescopic spring covers. Rigid Protective tubes.
* Safety Devices:
Limit switches. Proximity switches. Safety nuts. Anti-backlash nut. Overload safety couplings. Stop nuts. Position Encoders. Overload clutch. Brake motor. Linear braking elements. Wear detection/monitors. Linear guides and rails. Potentiometer. Pressure sensor.
* Others Accessories:
Travel nuts. Position indicators. Trunnion adapter plates. Trunnion mounting brackets. Pillow blocks. Flange blocks. Rod end bearings.