Electric heavy-duty linear actuators are for tough, industrial automation applications. Their products are used in a wide variety of industry applications where conservative design, rugged construction, long life, and high precision are required and valued. More specifically as replacement for older fluid power solutions like hydraulic and pneumatic linear actuators. There's a reason why an ever-increasing number of machine builders are switching to electric linear actuators. Benefits of Electric Actuation include:
* Cleaner, quieter, and more energy efficient
* Improved performance
* Less maintenance required
* More accuracy and repeatability
* More flexibility and scalability
* Higher speeds and force
* Better programmability
* Higher system stiffness
* Lower operating costs
500KG In-Line Electric Linear Actuator, 500kgf Linear Push Pull Movement Electric Actuators Replacement for Hydraulic Actuators and Pneumatic Cylinders. 500KG In-Line Electric Linear Actuator features include heavy load capacity, high linear speed, long service life, low noise system, no oil leaks, contamination or fire risk, accurate and repeatable positioning using simplified system, easy synchronization, easy installation, no pipework, powerpack and valves, choice of end fittings like clevis, threaded end, top plate, trunnion mounting (with or without feet), proximity switches, guided ram (guiding the load side loads on the actuator ram should be avoided by ensuring that the load is guided), and bellows boots. 500KG In-Line Electric Linear Actuator can not only match the load capacity of hydraulic cylinders and exceed the load capacity of conventional electric linear actuators. Main application in coiling machines, decoiling machines, continuous operation process lines, tundish cars, scissor lifts, lifting platforms, robotics, continuous paint pumps, medical beds, gates, dampers, oven and processing tank doors, antennas, and agricultural equipment.

500KG In-Line Electric Linear Actuator Technical Details &

Drawings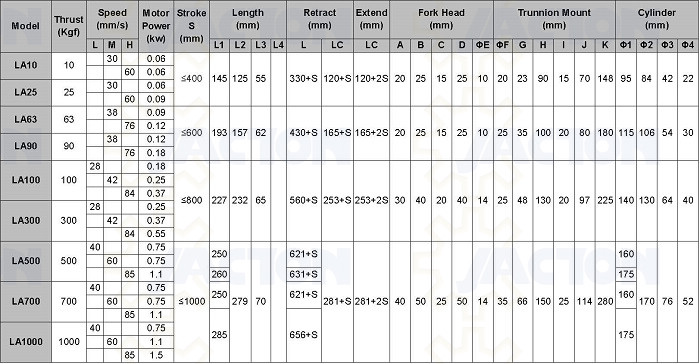 Trunnion Mounting Feet
Drawings