Electric Cylinder Actuator
is for high load linear motion solutions with compact cubic gearbox design. Combined the advantages of Linear actuator and Screw Jack to achieve the high load lifting in industry application.The sealed and high protection class allow the actuator work even in harsh environments. Which is a good solution for Hydraulic and Pneumatic replacement to reduce cost and pollution.
Synchronized Lifting, 2-18 pieces Electric Cylinder Actuators could be driven by one motor. Simple operation but reliable. Please contact our engineering for synchronized lifting system design. Electric cylinder actuators systems are widely application in tunnel freezers, frying machine, polysilicon ingot furnace, monocrystalline silicon in the photovoltaic industry, vehicle lifters in the vehicle manufacturing industry, flexible tooling and welding lifts, medical devices, woodworking machinery, food machinery, aerospace, defense military, and astronomical telescopes remote control actuators.
Alternative JCB Ball Screw Electric Cylinder Actuator and JCA Acme Screw Electric Cylinder Actuator
. Load capacity from 2 ton to 20 ton, could be classified as 2 ton, 5 ton , 8 ton , 10 ton , 20 ton unit. Max. speed and stroke could reach 100mm/s and 2.5m. Duty cycle 50%. In the absence of vibration load, JCA acme screw electric cylinder actuator has self-locking and precisely position loads, will hold loads without backdriving. NOTE: Brake motors must be specified for all JCB ball screw electric cylinder actuators. And for any acme screw electric cylinder actuator with an efficiency ratio greater than or equal to 30%.
The
Electric Cylinder Actuator
can be ordered to accept the motor type of your choice, whether geared motor,or AC motor etc. The electric cylinder actuator offers flexibility in order to accept any type to meet your requirement. Available in Standard mount (double input shafts), Direct Motor Mounts and Parallel Motor Mounts with additional gear reducer.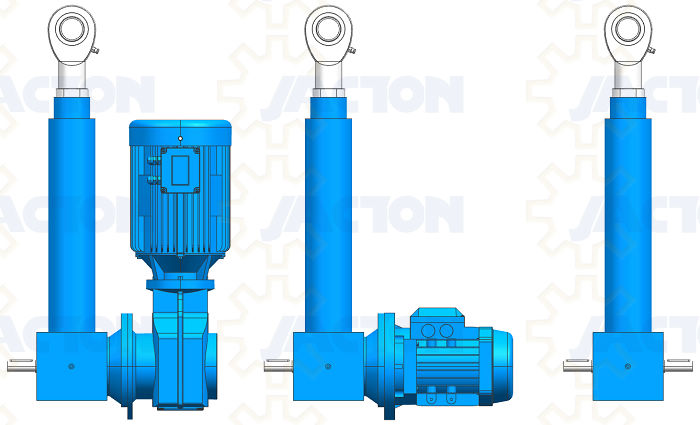 Electric Cylinder Actuator

Material
* Acme Screw: S45C. Custom stainless steel.
* Translating Tube(Push Rod): High strength steel. Custom stainless steel.
* External Protection Tube: High strength steel. Custom stainless steel.
* Worm(Input Shaft): Hardened worm, S45C. Custom stainless steel.
* Worm Gear(Wheel): High strength bronze.
* Travelling Nut: High strength bronze.
* Housing: Ductile Iron. Custom stainless steel.
Applications of Synchronized Lifting
Jacton Industry provided complete lifting system design and components, Which including electric cylinder actuators, motors, bevel gearboxes, connecting shafts, couplings, brake, clutch etc. Customer just need let us know your requirement of total load capacity, speed, stroke and dimension, Our engineering will provided you a design scheme with calculation process and components selection, CAD drawing is also available.
Synchronized Lifting System of Two Electric Cylinder Actuators (I- and T-configuration)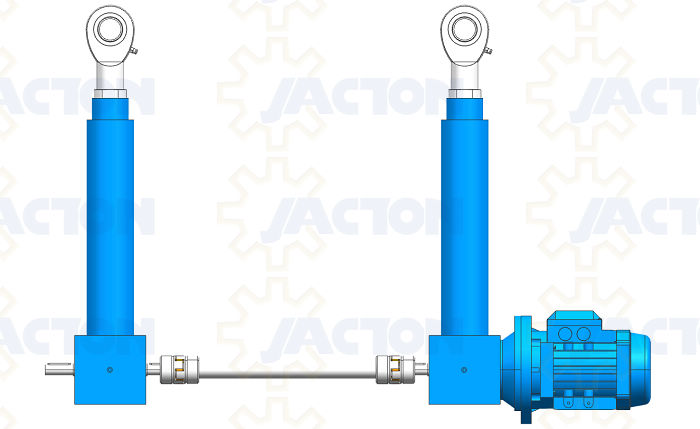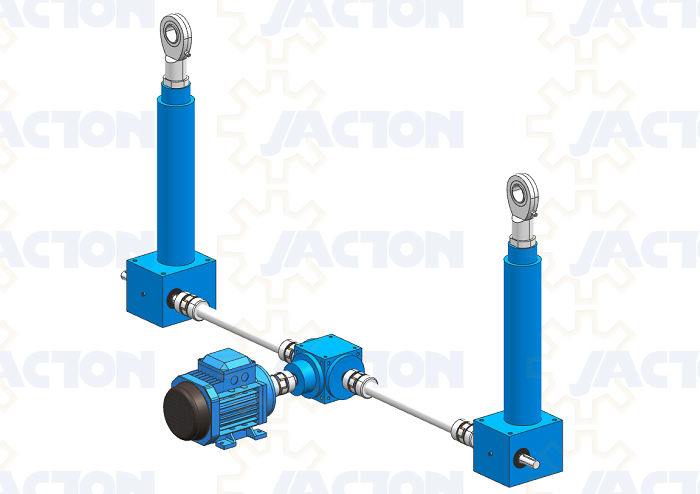 Synchronized Lifting System of Four Electric Cylinder Actuators (H- and U-configuration)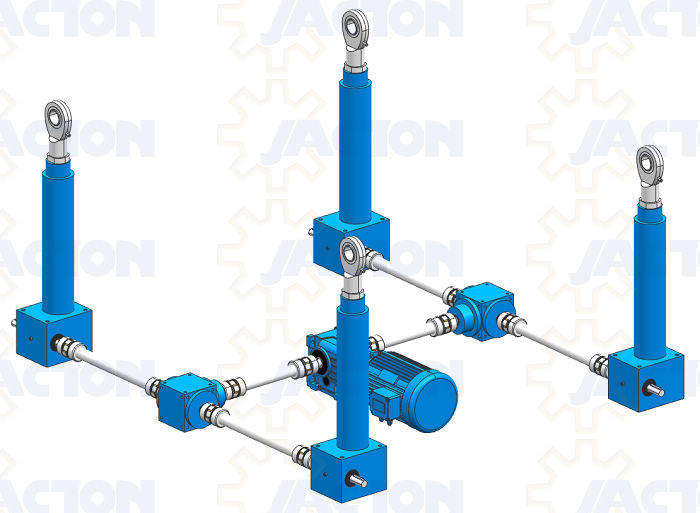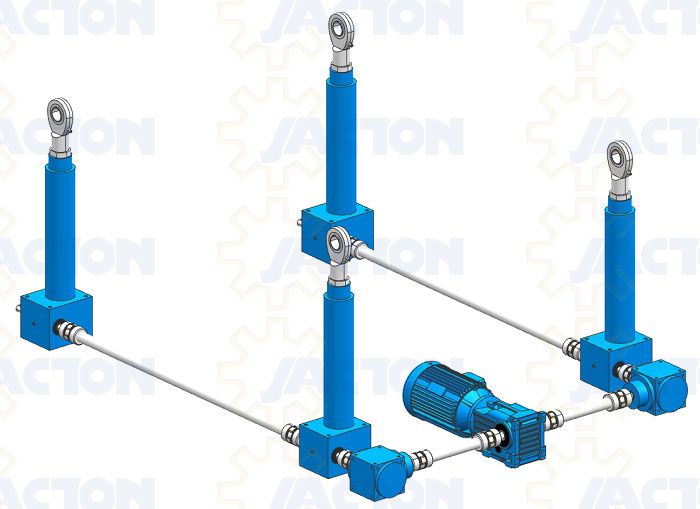 Permissible Critical Bucking Force of Electric Cylinder Actuator
The primary electric cylinder actuators size selection factor is the bucking resistance of screw shaft, Also know as Euler cures, the graphs (Euler 2: Guided) below give safety operating state for each size of electric cylinder. Buckling limits are relevant for compressive load only.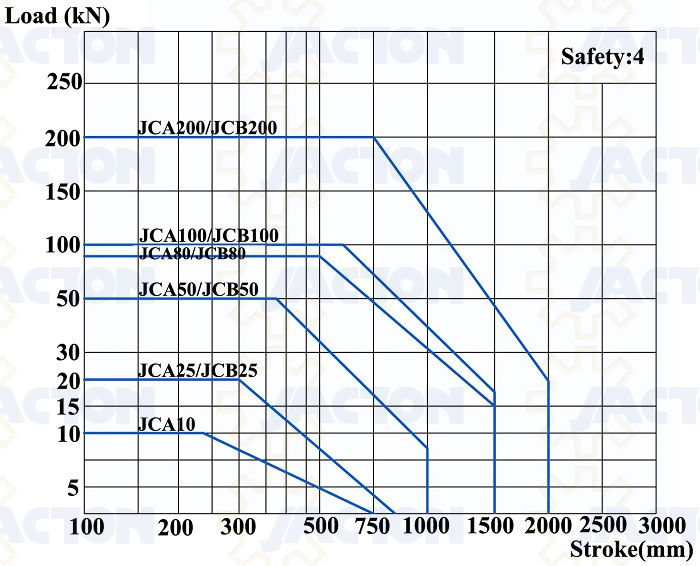 Electric Cylinder Actuator Accessories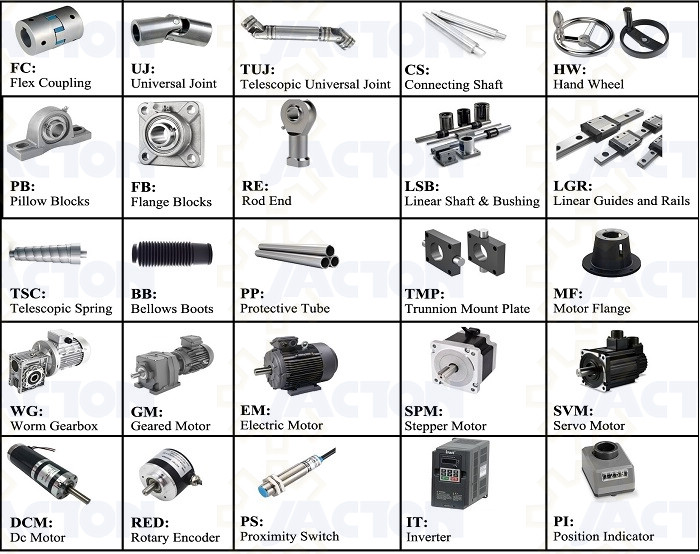 * Motorized driven (AC or DC)
by asynchronous motors (normal, YEJ brake, YVP variable frequency, B explosion proof, D multi-speed), stepper motors, servo motors with encoders and controllers. IEC motor flange or NEMA C-Face motor adapter for connect with motors. Frequency inverters.
* Manually operation
by Aluminum handwheels, or Cast iron handwheels.
* Connection Devices:
Couplings. Universal joints. Telescopic universal joints. Connecting shafts.
* Screw Protective Devices:
Bellows boot. Telescopic spring covers. Rigid Protective tubes.
* Safety Devices:
Limit switches. Proximity switches. Safety nuts. Anti-backlash nut. Overload safety couplings. Stop nuts. Position Encoders. Overload clutch. Brake motor. Linear braking elements. Wear detection/monitors. Linear guides and rails. Potentiometer. Pressure sensor.
* Others Accessories:
Travel nuts. Position indicators. Trunnion adapter plates. Trunnion mounting brackets. Pillow blocks. Flange blocks. Rod end bearings.