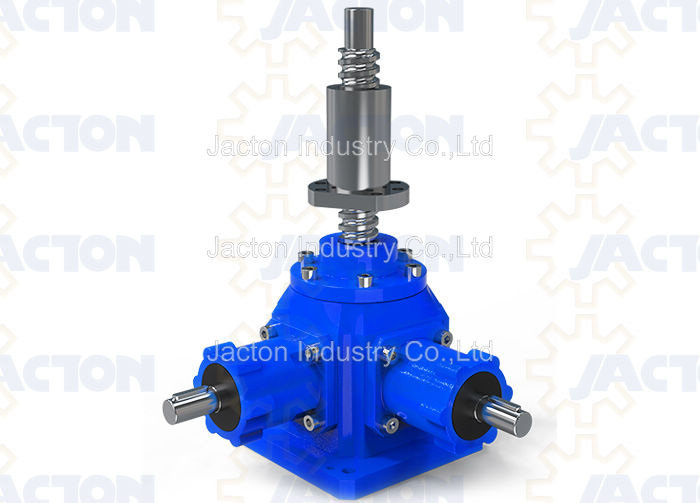 Sample Part Number Of Bevel Gear Screw Jack
JTS - 150 - US - 600 - H - IV - C - PP
1 2 3 4 5 6 7 8
1. Jack Series
JTS: JTS series
bevel gear screw jack
2. Lifting
Capacity and

5. Bevel Gear Ratio
* 150: maximum static lifting capacity 150kN.

For JTS series bevel gear screw jacks, available static lifting capacities 25 kN, 50 kN, 100 kN, 150 kN, and 200 kN.
Before selecting lifting capacities, please check corresponding models technical parameter table.
*

There are two bevel gear ratios(not worm gear ratio) for every JTS series bevel gear screw jacks models.

They are H: high speed 1:1 ratio and L: slow speed 2:1 ratio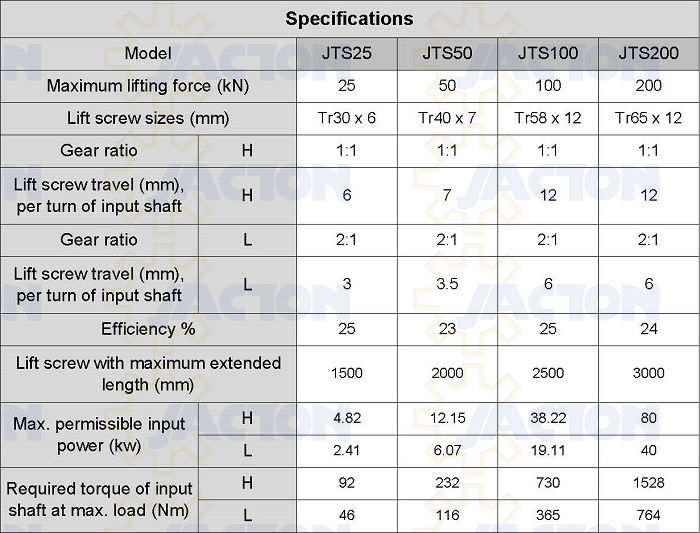 3. Screw Configurations & Mounting Orientation
US: Upright translating screw UK: Upright keyed screw UR: Upright rotating screw
IS: Inverted translating screw IK: Inverted keyed screw IR: Inverted rotating screw
* Important Note: The lifting screw of a translating screw jack must be attached to the guided load which prevents the lifting screw from rotating. To add the linear guides, rails or rolls are recommended.
* Important Note: If your application involves a load which is unattached, unguided or the load is free to rotate and not translate, then a keyed anti-rotation screw jack(key and keyway) are required to prevent lifting screw rotation (not recommended).
4. Travel Length and

6. Lifting Screw End Fittings




* 600, means exact travel length 600mm. All travel length of JTS series bevel gear screw jacks are

customized, the travel length available range from 5mm to 9500mm.
*

All JTS series bevel gear screw jacks models lifting screw end fittings includes top plate (I), clevis end (II), plain end(III) and threaded end (IV). Custom made spherical hinge, forked head etc. If special lifting screw end fitting needed, please send us the end fitting drawings, we will process them following the drawings.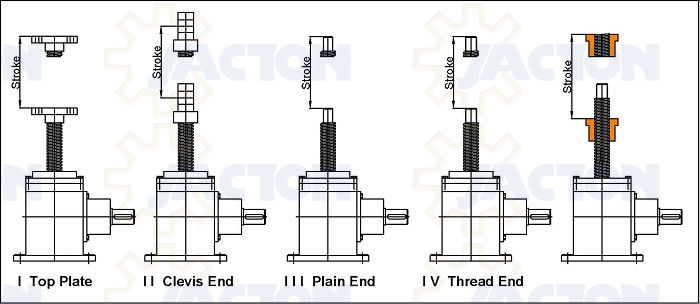 7. Input Shaft Types
A: Single input shaft.
B: Inline pair input shafts.
B2: 90 degree right angle pair input shafts.
C: Three input shafts (T type).
D: Four input shafts(Cross type).

8. Accessories

JTS series bevel gear jacks with a comprehensive range of accessories like FC=Flex couplings, UJ=Universal joints, TUJ=Telescopic universal joints, CS=Connecting shafts, HW=Hand wheels, PB=Pillow blocks, FB=Flange blocks, RE=Rod ends, LSB=Linear shafts and bearings, LGB=Linear guides and bearings, TSC=Telescopic spring covers, BB=Bellows boot, PP=Protection tubes, TAP=Trunnion adapter plates, TMB=Trunnion mounting brackets, MF=Motor flanges, WGR=Worm gear speed reducers, HGR=Helical gear reducers, EM=Single phase or three phase induction motors, STM=Stepper motors, SEM=Servo motors, DCGM=DC geared motors, REN=Rotary encoders, LS=Travel limit switches, FIN=Frequency inverters, PIN=Position indicators, SN=Stop nuts, TN=Travel nuts, SNU=Safety nuts.