Hydraulic vs. Electric Linear Actuator: Which is Best?
Electric linear actuators: Unlike the hydraulic variant, these linear actuators are powered exclusively by motors. The motor powers the lead screw, which is fitted with a nut that runs up and down the thread. This converts the rotary motion into linear movement.
Hydraulic linear actuators: These actuators are powered by pumps of incompressible oil. The pressure that the fluid creates moves the cylinders and, in turn, helps move your application.
300KG Inline Industrial Electromechanical Linear Actuator, Electric Rod Style Actuators Instead of Electro Hydraulic Linear Actuator and Pneumatic Cylinder. 300KG Inline Industrial Electromechanical Linear Actuator features include heavy load capacity, high linear speed, long service life, low noise system, no oil leaks, contamination or fire risk, accurate and repeatable positioning using simplified system, easy synchronization, easy installation, no pipework, powerpack and valves, choice of end fittings like clevis, threaded end, top plate, trunnion mounting (with or without feet), proximity switches, guided ram (guiding the load side loads on the actuator ram should be avoided by ensuring that the load is guided), and bellows boots. 300KG Inline Industrial Electromechanical Linear Actuator can not only match the load capacity of hydraulic cylinders and exceed the load capacity of conventional electric linear actuators. Main application in coiling machines, decoiling machines, continuous operation process lines, tundish cars, scissor lifts, lifting platforms, robotics, continuous paint pumps, medical beds, gates, dampers, oven and processing tank doors, antennas, and agricultural equipment.

300KG Inline Industrial Electromechanical Linear Actuator Technical Details &

Drawings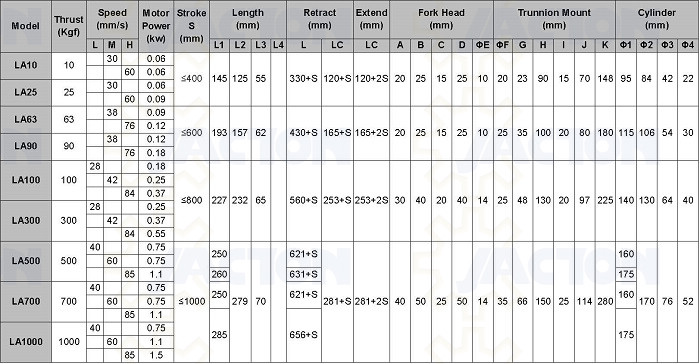 Trunnion Mounting Feet
Drawings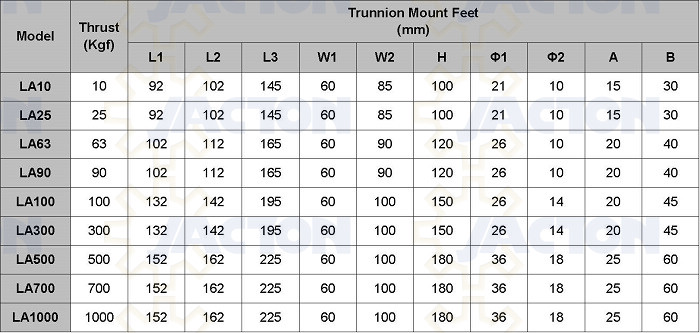 In this post, we'll discuss the advantages and disadvantages of two of the most popular types of linear actuators – hydraulic and electric – to help you find the perfect device for the job.