JTB-1T Ball Screw Jack Picture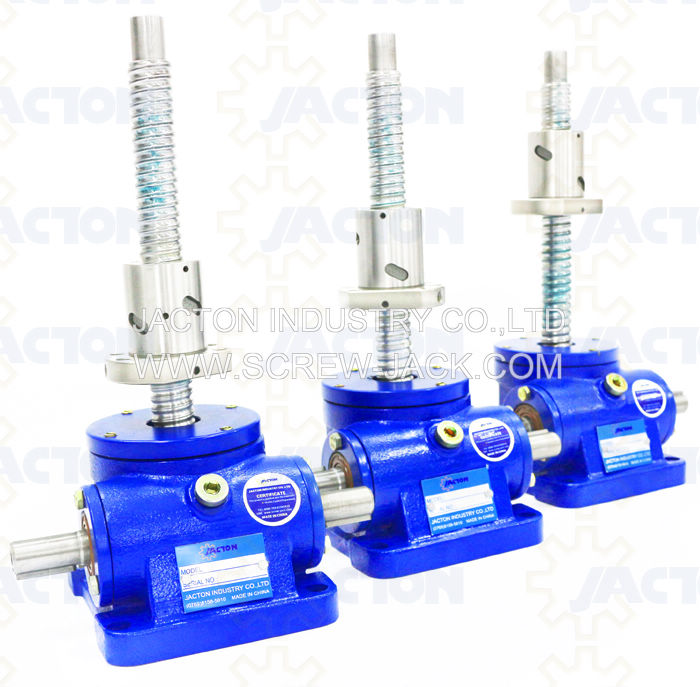 JTB-1T Ball Screw Jack Descriptions
1. Lifting force 1 ton.
2. Ball screw diameter 20 mm, lead 5 mm. Custom high lead and other lead ball screw. Gearbox sizes 122x104x84mm. Center height 40mm, center distance 31mm. Worm shaft diameter 14mm.
3. High worm gear ratio 1/6, low worm gear ratio 1/24. Custom other worm gear ratios.
4.

Translating ball screw, rotating ball screw with ball nut, anti-rotation ball screw with square tube configurations in upright or inverted mounting orientation.


5. High speed, high precision, high efficiency, high duty cycle, high performance, high frequency operation, low drive torque, long service life.
6. Motorized ball screw jack by 3-phase or single phase electric motor or gear reducer, manual ball screw jack by handwheel or hand crank.
7. Ball screw ends include

top plate (I), clevis end (II), plain end(III) and threaded end (IV) are available. Custom made spherical hinge, forked head

.
8. Individually or multiple jtb-1t ball screw jack lift system arrangements are available.

Note:
ball screw without self-locking, braking motor, brake mechanism or other locking systems are required when keep the position.
When a jtb-1t motorized ball screw jack, less power is required than an equivalent size JTW-1T machine screw jack
.
JTB-1T Ball Screw Jack Specifications
| | |
| --- | --- |
| Max. load capacity (ton) | 1 |
| Ball screw diameter (mm) | 20 |
| Ball screw lead (mm) | 5 |
| Gear Ratio (H: high ratio) | 1/6 |
| Lift screw travel (mm), per turn of worm shaft (H: high ratio) | 0.83 |
| Efficiency % (H: high ratio) | 61 |
| Gear Ratio (L: low ratio) | 1/24 |
| Lift screw travel (mm), per turn of worm shaft (L: low ratio) | 0.21 |
| Efficiency % (L: low ratio) | 34 |
| Idling torque (N.m) | 0.29 |
| Permissible input torque (N.m) | 19.6 |
| Max. Permissible input power (kw) | 0.54 |
JTB-1T Ball Screw Jack Dimensional Drawing