What is a Linear Actuator? An electric linear actuator is a device that converts the rotational motion of a motor into linear motion – that is push and pull movements. This way it is possible to lift, adjust, tilt, push or pull heavy or hard-to-reach objects, simply by pushing a button. Additionally, actuators provide a safe, quiet and clean movement with accurate motion control. They are energy efficient and have a long lifetime with little or no maintenance. Installing an actuator is very easy compared to hydraulic or pneumatic systems and it takes up much less space, as it has no pumps or hoses. The ability of the actuators to adapt to specific needs ensures well-functioning solutions that are applied in many different aspects for a wide range of applications and products.
An electric linear actuator consists of a motor, a gear and a spindle including a nut. A special version of the linear actuator is the built-in actuator meant for integration in a customer guidance or linear column. A complete actuator system solution includes one or more linear actuators, a control box and a control device to operate the actuators.
10KG In-line Mini Electric Linear Actuators with Brake Motor, Industrial Linear Actuator Replace The Traditional Pneumatic Cylinders or Hydraulic Cylinder. 10KG In-line Mini Electric Linear Actuators with Brake Motor features include heavy load capacity, high linear speed, long service life, low noise system, no oil leaks, contamination or fire risk, accurate and repeatable positioning using simplified system, easy synchronization, easy installation, no pipework, powerpack and valves, choice of end fittings like clevis, threaded end, top plate, trunnion mounting (with or without feet), proximity switches, guided ram (guiding the load side loads on the actuator ram should be avoided by ensuring that the load is guided), and bellows boots. 10KG In-line Mini Electric Linear Actuators with Brake Motor can not only match the load capacity of hydraulic cylinders and exceed the load capacity of conventional electric linear actuators. Main application in coiling machines, decoiling machines, continuous operation process lines, tundish cars, scissor lifts, lifting platforms, robotics, continuous paint pumps, medical beds, gates, dampers, oven and processing tank doors, antennas, and agricultural equipment.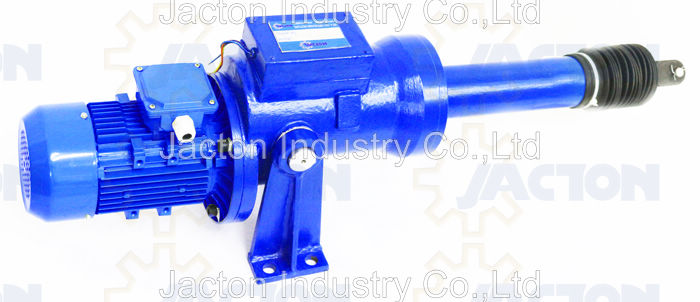 10KG In-line Mini Electric Linear Actuators with Brake Motor
Technical Details &
Drawings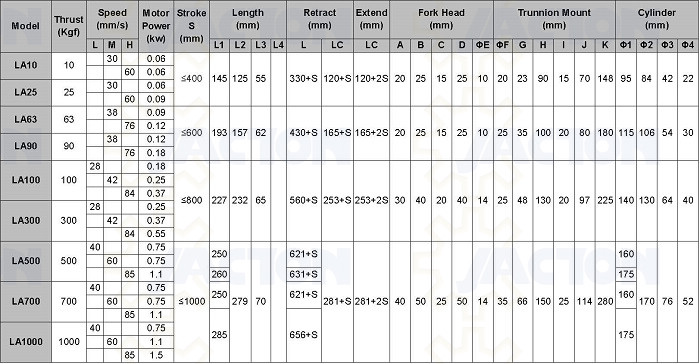 Trunnion Mounting Feet
Drawings