JBG Series Quick Lifting Screw Jacks
supplement our offer of worm gear screw jacks. They are more efficient and may be used in a broader field of applications. Simple and effective solution in comparison with hydraulic and pneumatic systems. All high speed Quick Lifting Screw Jacks are equipped with hardened, sharpened and spiral-toothed bevel gear transmissions. Therefore, they attain high lifting speeds, longer operating time, low noise and improved efficiency. With quality Taiwan TBI ball screws, high speed screw jacks are used in applications requiring higher dynamics and higher duty cycle up to 60%. They can be driven directly by electric motor or other engines, or manually operated. The highest input speed is 1000rpm. Especially suitable for high-frequency and high-speed working conditions, the maximum lifting speed is up to 500mm/s with ball screw and 200mm/s with trapezoidal spindle. There are no standard stroke, all orders manufactured according to the user's requirements. They are not self-locking and must be equipped with a brake device or a brake motor to hold the position.
Bevel gear high speed Quick Lifting Screw Jacks
are modular design in 5 sizes. Each size is available with two bevel gear ratios 1:1 and 2:1. Gear housings of JBG1 to JBG10 models are cubic design housing, compact and robust, they are made of aluminum alloy with surface oxidation treatment. Compared with cast iron gearbox, it is lighter in weight, higher in strength, and easier to dissipate heat. For heavy duty model JBG15's gear housing is manufactured from ductile iron.
All
bevel gear high speed Quick Lifting Screw Jacks
are functional in every installation position and can be mounted flexibly thanks to the cubic form. According to the customers request they are delivered with one drive shaft, two drive shafts, three drive shafts, and four shafts. Lifting assemblies with several high speed screw jacks do not therefore require additional bevel gearboxes.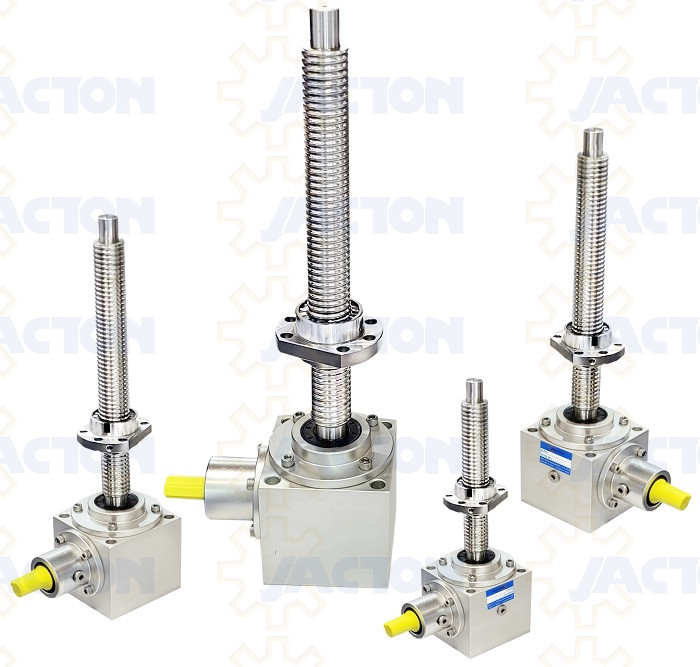 Quick Lifting Screw Jack Specifications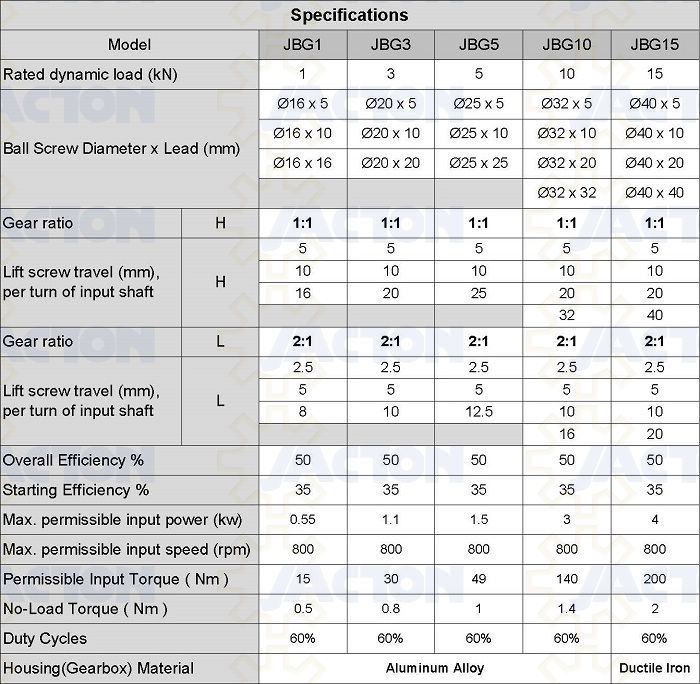 Note:
For multiple high speed quick lifting screw jacks lifting systems, some bevel gear jacks require left-handed ball screw. However, there are not high(large) leads sizes for left-handed ball screws. Please pay more attention when selection.
Quick Lifting Screw Jack Accessories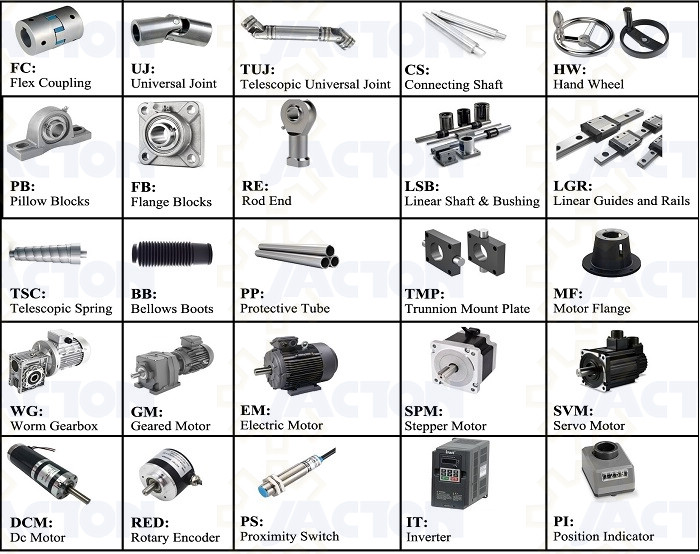 * Motorized driven (AC or DC)
by asynchronous motors (normal, YEJ brake, YVP variable frequency, B explosion proof, D multi-speed), stepper motors, servo motors with encoders and controllers. IEC motor flange or NEMA C-Face motor adapter for connect with motors. Frequency inverters.
* Manually operation
by Aluminum handwheels, or Cast iron handwheels.
* Connection Devices:
Couplings. Universal joints. Telescopic universal joints. Connecting shafts.
* Screw Protective Devices:
Bellows boot. Telescopic spring covers. Rigid Protective tubes.
* Safety Devices:
Limit switches. Proximity switches. Safety nuts. Anti-backlash nut. Overload safety couplings. Stop nuts. Position Encoders. Overload clutch. Brake motor. Linear braking elements. Wear detection/monitors. Linear guides and rails. Potentiometer. Pressure sensor.
* Others Accessories:
Travel nuts. Position indicators. Trunnion adapter plates. Trunnion mounting brackets. Pillow blocks. Flange blocks. Rod end bearings.