Miniature worm drive lift mechanism can be installed in any position. The worm gearing has a specially modified form which results in low inter-gear specific pressures and an extended working life. The worm is manufactured from high quality alloy steel, hardened and ground. Normally the spindle pitch and gear ratio are matched. Single start precision trapezoidal screws are normally self locking. However safety regulations must be observed.
We are not only a supplier for single screw jack gearboxes and motors. We also deliver complete lifting systems, ready to install. Screw jacks with cube housing. Screw jacks with classic housing. Safety nuts. Foot-mounted motors (B3). Face-mounted motors (B14) with adaptor and elastic coupling. Backlash-free couplings. Bevel gearboxes. Connecting shafts. Additional parts (bellows, flange plates, hand wheels, etc). Actuators, control boxes and hand operators have to be ordered separately.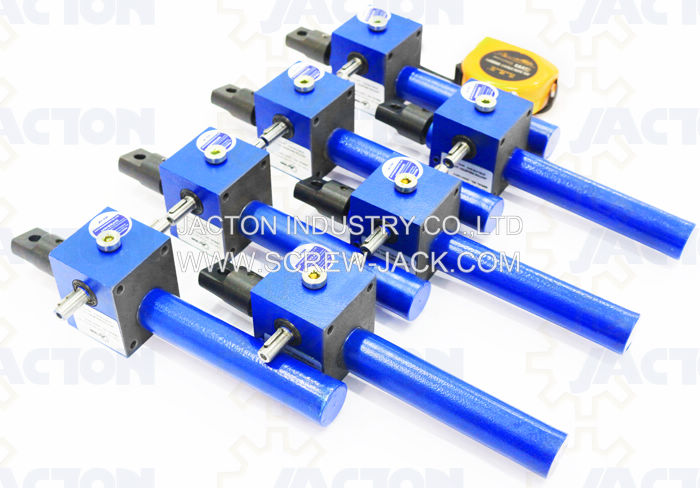 Features:
1. Compact, Cubic design, Gearbox sizes 60x50x50 mm.
2. Light weight with aluminum housing, and available in ductile iron housing.
1. Upright or inverted installation with maximum static lifting capacity 2.5kN.
2. Self-locking with no need brake or lock mechanisms to hold position.
3. 14mm diameter lifting screw, 4mm lead acme screw (single start acme thread).
4. Available in 5:1 and 20:1 ratios.
5. Custom travel lengths from 10mm to 1500mm.
6. Translating screw (travelling screw jacks), keyed screw for anti-rotation, and rotating screw with traveling nut (travelling nut screw jacks) as the standard configurations.
7. Worm screw is rotated by a hand wheel with handle (mini manual screw jack) or by a electric motor (mini electric screw jack).
Note: Can not directly coupled with motor by motor flange, because of the smallest size gearbox. Can be attached to foot mounted small DC or AC motors with couplings for powered operation.
8. Can be applied either individually use or combined into a exactly synchronized lifting system, linked by connecting shafts, bevel gears and couplings etc.
9. Main components with international standard materials: The main components are trapezoidal lifting screw (worm screw) with C45 steel material, worm gear or travelling nut with bronze material, worm shaft with heat treatment C45 steel material, thrust bearings, grease seals and gear housing with ductile iron.
Different Types of Screw Jacks
1. Worm gear maching screw jack with load 1/4 ton - 100 tons, customized larger capacity 250 tons.
2. Worm gear ball screw jack with load 1 ton - 35 tons.
3. Bevel gear screw jack with load 2.5 ton - 50 tons.
Different Versions of Screw Jacks
1. Translating Screw Version:
The rotation of the worm gear acts directly on the lift screw and the lift screw translates linearly. Unless the end of the lift screw is fixed (dependent on customer requirements), the lift screw will tend to rotate due to friction between the screw threads.
2. Anti-rotation with Keyed Screw Version:
As above but the lift screw is keyed such that it cannot rotate. This is important if the lift screw end is not to be fixed to the load. Both the keyed and un-keyed translating screws are commonly used in applications where more than one screw jack is attached to a common load.
3. Rotating Screw Version:
The lift screw is fixed to the worm gear so rotation of the worm gear causes rotation of the lift screw thus translating the nut along the lift screw when the nut is attached to the load.
Advantages of Screw Jacks
1. Simple and inexpensive solution in comparison with hydraulic and pneumatic systems.
2. A defined load can be moved to an exact position at a preset speed.
3. Several Screw jacks can be synchronised lifting systems by means of connection shafts and an electronic controller, for example in stage construction.
3. Can be positioned very precisely.
4. They can exert the same forces in both the pushing and pulling direction.
5. An economically very interesting solution compared to pneumatic and hydraulic systems.
6. Many technically ideal and economically interesting solutions can be realised with our modular construction kit concept.
7. Screw jacks are valued by design engineers as standard machine elements.
Applications of Screw Jacks
Screw Jack is the ideal product to push, pull, lift, lower and position object loads. They are essential components in automated machinery because of high reliability and synchronization. Additionally, screw jack is increasingly finding uses as alternatives to conventionally pneumatic and hydraulic systems.
1. Platform lifting applications
2. Opening and closing of penstocks
3. Industrial process
4. Roll form machinery
5. Food processing machinery
6. Construction sectorMechanical lifting applications
7. Bridge jacks for road and bridge lifting
8.Lift tables
9. Defense industry
10. Stage setup applicationsShipyards
11. Mining industry
12. Gypsum factories
13. Sheet metal forming machinery
14. Paper, press, printing industry
If you have new machines or potential projects and would like to learn more information and price about high quality
Micro screw jack actuators have been used in headbox slice lip profiling applications
, contact us today with your requirements. Our teams are looking forward to working with you.
Important Note:
most of our standard products with stock components, in other words, in stock and fast delivery.