Pictures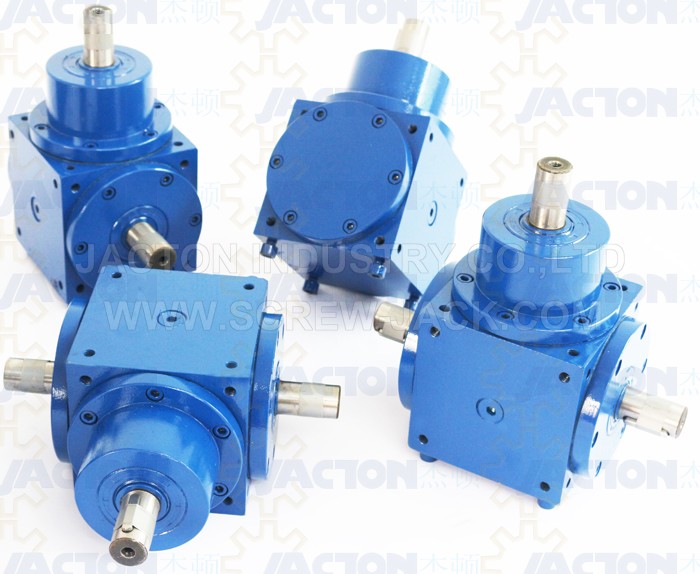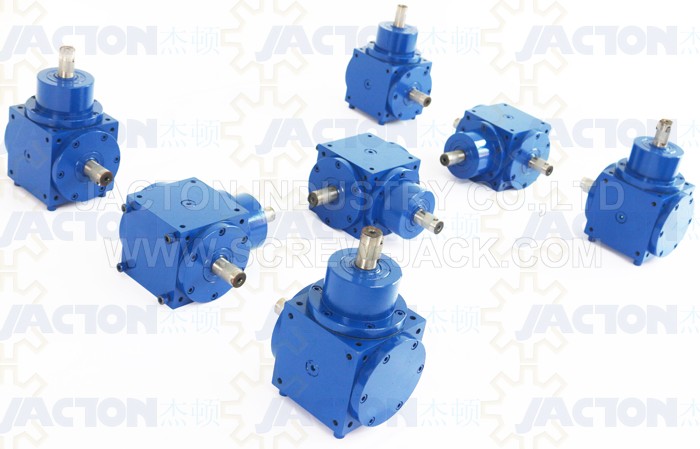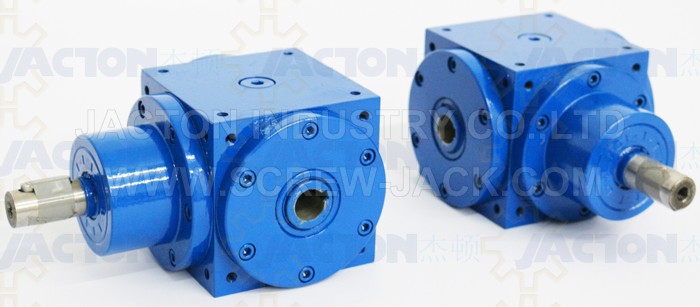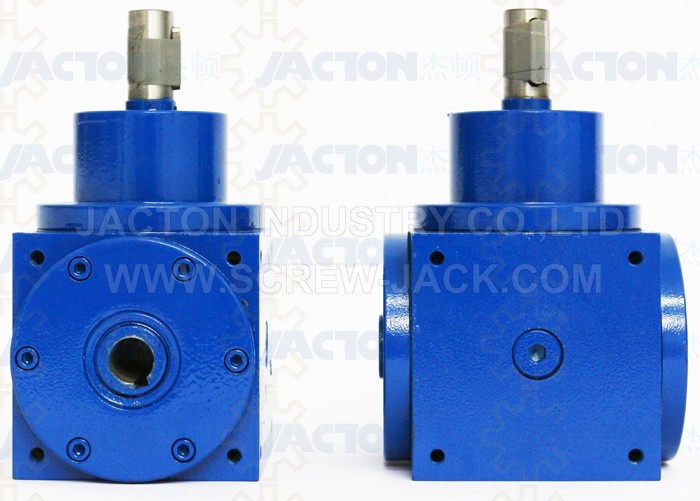 Features
1. JTP series cubic gearbox has 8 models, they are JTP65, JTP90, JTP110, JTP140, JTP170, JTP210, JTP240, JTP280.
2. Ultra compact cubic bevel gearbox design, all-round machined symmetrical housing, and all-round tapped holes for universal mounting, 6 possible universal mounting positions, can be easily mounted in any direction.
3. Configuration available solid input and output shaft, solidinput shaft with output hollow shaft, input IEC flange with output solid shaft, input IEC flange with output hollow shaft.
4. With various types are standardized, all gear ratios of 1:1, 1.5:1, 2:1, 3:1, 4:1 and 5:1 are actual ones. Average efficiency is 98%.
5. 2 way, 2 way reverse, 3 way, 3 way reverse, 4 way and 4 way reverse configurations.
6. Allowable torque 40Nm to 1199Nm, power 6kw-156kw, input speed 0-1500rpm.
7. Low backlash, quiet low noise, low running temperature, lubricants prior to shipment, factory tested prior to shipment.
8. Mainly applicate in screw jack lift system, printing press, plastic extruder, sewage auger, bonding equipment, metering auger, sewage agitator, newspaper conveyor, bottling equipment, material handling, web finishing, paper conveying, conveyor, cardboard box equipment, packaging, vertical pump drive, sand spreader, residential mower, snow blower, mining equipment, crane, agricultural, grain wagon, harvester, forage harvester, manure spreader, fertilizer spreader and sewage conveyor etc.
Structures and Materials
Structures: cubic gearbox or housing, spiral bevel gears, input shafts, output shafts, bearings, sealings, shafts covers etc.
Spiral Bevel Gears
1. High purity rugged alloy steel 20CrMnTiH material
2. Carburizing process, case hardened and lapped in pairs for intersecting shafts
3. Low noise with grinded spiral teeth, high torque with milled teeth, high rigidity and wear risistance
Input Shaft and Output Shaft
1. Hardened and tempered alloy steel 40Cr material, hanging heavy load capacity With key and keyway
2. Customized stainless steel, chromium coated or other corrosion resistance painting.
3. Customized spline shaft,shaft without key and keyway
Cubic Gearbox or Housing
1. High rigidity cast iron
2. Customized stainless steel, galvanic coating or other corrosion resistance painting
Bearing
1. Heavy duty tapered roller bearing
2. Customized reinforced bearings for higher radial and axial load
Oil Seal
1. Double lip oil seal
2. Prevent gear oil leak and dustproof
Models and Specifications
JTP65 Miter Gearbox
1. gear ratio 1:1
2. cubic,6 mount positions
3. solid input,output shaft
4. 2 way,3 way,4 way shafts
5. input power max. 1.8Kw
6. drive torque max. 13.5Nm
JTP90 Miter Gearbox
1. gear ratios 1:1 to 5:1
2. cubic,6 mount positions
3. solid shaft,hollow shaft
4. 2 way,3 way,4 way shafts
5. input power max. 6Kw
6. drive torque max. 43.3Nm
JTP110 Miter Gearbox
1. gear ratios 1:1 to 5:1
2. cubic,6 mount positions
3. solid shaft,hollow shaft
4. 2 way,3 way,4 way shafts
5. input power max. 11Kw
6. drive torque max. 78.3Nm
JTP140 Miter Gearbox
1. gear ratios 1:1 to 5:1
2. cubic,6 mount positions
3. solid shaft,hollow shaft
4. 2 way,3 way,4 way shafts
5. input power max. 23.9Kw
6. drive torque max. 170Nm
JTP170 Miter Gearbox
1. gear ratios 1:1 to 5:1
2. cubic,6 mount positions
3. solid shaft,hollow shaft
4. 2 way,3 way,4 way shafts
5. input power max. 39.2Kw
6. drive torque max. 290Nm
JTP210 Miter Gearbox
1. gear ratios 1:1 to 5:1
2. cubic,6 mount positions
3. solid shaft,hollow shaft
4. 2 way,3 way,4 way shafts
5. input power max. 67.5Kw
6. drive torque max. 520Nm
JTP240 Miter Gearbox
1. gear ratios 1:1 to 5:1
2. cubic,6 mount positions
3. solid shaft,hollow shaft
4. 2 way,3 way,4 way shafts
5. input power max. 90.5Kw
6. drive torque max. 694Nm
JTP280 Miter Gearbox
1. gear ratios 1:1 to 5:1
2. cubic,6 mount positions
3. solid shaft,hollow shaft
4. 2 way,3 way,4 way shafts
5. input power max. 156Kw
6. drive torque max. 1199Nm

Example Selection Guide


JTP90 – 1:1 – C – B3
1 2 3 4
1. Model
Model: JTP65, JTP90, JTP110, JTP140, JTP170, JTP210, JTP240, JTP280

2. Gear Ratio
1:1, 1.5:1, 2:1, 3:1, 4:1, 5:1

3. Shaft Arrangements And Direction Of Shaft Rotating
Drive shafts can be rotated in both forward and reverse directions. CW=Clockwise, CCW=Counterclockwise.
* A: 3 way, input shaft CW, output shaft CW.
* B: 3 way reverse, input shaft CW, output shaft CCW.
* C: 2 way, input shaft CW, right side output shaft CW.
* D: 2 way reverse, input shaft CW, right side output shaft CCW.
* E: 2 way, input shaft CW, left side output shaft CW.
* F: 2 way reverse, input shaft CW, left side output shaft CCW.
* G: 4 way, input shaft CW, inline input shaft CCW, output shaft CW.
* H: 4 way reverse, input shaft CW, inline input shaft CCW, output shaft CCW.
* J: 3 way, input shaft CW, inline input shaft CCW, right side output shaft CW.
* K: 3 way reverse, input shaft CW, inline input shaft CCW, right side output shaft CCW.
* L: 3 way, input shaft CW, inline input shaft CCW, left side output shaft CW.
* M: 3 way reverse, input shaft CW, inline input shaft CCW, left side output shaft CCW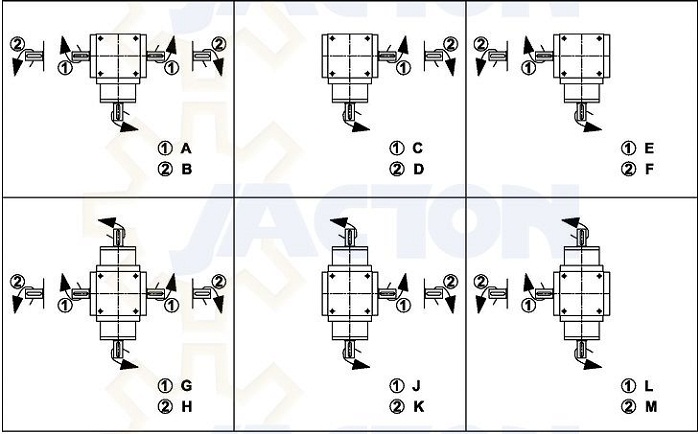 4. Mounting Position
* Horizontal mount codes: B3, B7, V3, V6
* Over hung mount codes: B5, B6, V5, V8
* Wall mount codes: B8, B9, V7, V9