High precision planetary gearboxes are used in numerous drive solutions from many different industries, such as the food industry, in mechanical engineering, medical technology, pharmacy or in automation and robotics. The advantageous characteristics of many different gearbox variants, such as precision, efficiency, low heat formation, low noise, etc.. The compact and rigid design ensure good performance with space and weight efficient at the same time. Lubricated for life and IP65 sealing benefit virtually maintenance-free under normal operating conditions for 20,000 hours. A wide range of motor adapter are available for installation to virtually all servo motors.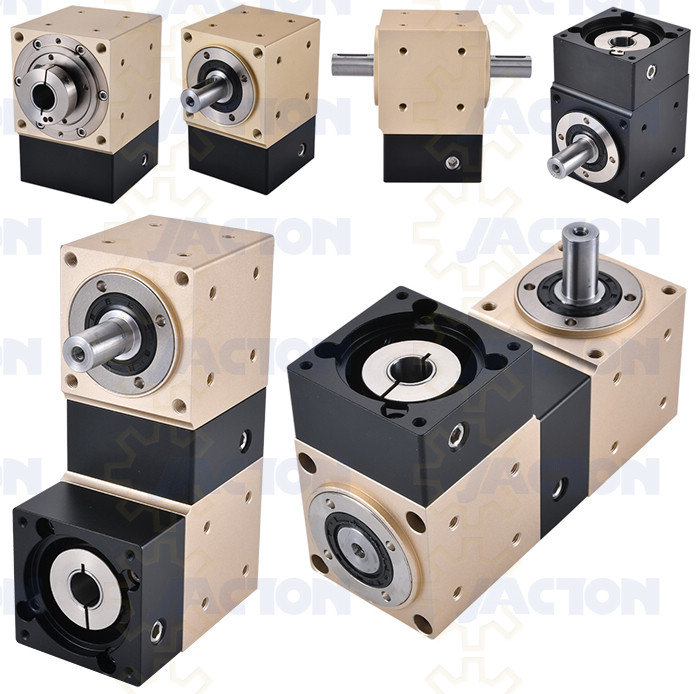 JAC60 Miniature 90 Degree Right Angle Servo Gearbox For Robotics Features
* Application in Precision Rotary Axis Drives, Travel Gantry and Columns, Material Handling Axis Drives, Industrial Areas in Automation, Aerospace, and Machine Tool and Robotics.
* Compact structure, integration of alloy aluminum body to ensure the maximum rigidity and corrosion resistance, and easy to assemble with multiple precision machined surface.
* High precision spiral bevel gearing and powerful stability., with optimization design, the contact tooth surface of uniform load, allowable hith torque output.
* Gear is made of high strength alloy steel carburizing, grinding precision.
* The design of multiple alloy steel output and input shaft applies to various industrial requirements.
* The simplified structure design with high torque and low backlash applies to applications of precision servo.
* Easy mount, with maintenance-free, no need to replace the grease and long service life. Flexible input mounting dimensions, and Adaptor flange solution available.
* Models: JAC060-L1, JAC060-L2, JAC060-C1, JAC060-C2.
Note 1: JAC is JACTON brand. Note 2: 042 is compact gearbox size. Note 3: L1 is 1 stage and double output shaft, L2 is 2 stage and double output shaft. Note 4: C1 is 1 stage and double hollow clamping output shaft (bore), C2 is 2 stage and double hollow clamping output shaft (bore).
* Compact and rigid design ensure performance within light and small gearbox size.
* Gear Ratios: Spiral bevel gear set of high precision grinding can achieve from 2:1 to 50:1 as standard.
* Stage: 1 stage (2:1 to 5:1), 2 stage (10:1 to 50:1).
* Rated Output Torque (N.m): From 18N.m to 60N.m. Fault Stop Torque = 2.5 Times of Rated Output Torque.
* Max. Input Speed (rpm): 3000RPM. Rated Input Speed (rpm): 1500RPM.
* Low Backlash (arcmin): 1 stage P0 ≤ 1arcmin, P1 ≤ 3arcmin. 2 stage P0 ≤ 2arcmin, P1 ≤ 5arcmin.
* Max. Radial Force (N) Of Output Shaft: 560N. Max. Axial Force (N) Of Output Shaft: 230N.
* Low Noise Level (dB): ≤ 58dB.
* High Efficiency (%): 1 stage ≥97%, 2 stage ≥95%.
* Average Life Span (hr): 20000 hours.
* Lubrication: Synthetic lubrication grease.
* Direction of Rotation: Input, and Output with Same direction.
* Operation Temperature: -25℃ to +90℃.
* Protection Grade: IP65.
* Mass Moments of Inertia (kgcm2): 0.08 kgcm2.
JAC60 Miniature 90 Degree Right Angle Servo Gearbox For Robotic Specifications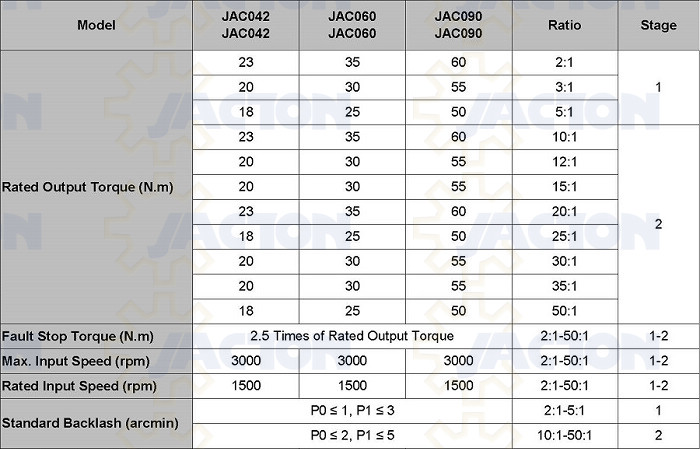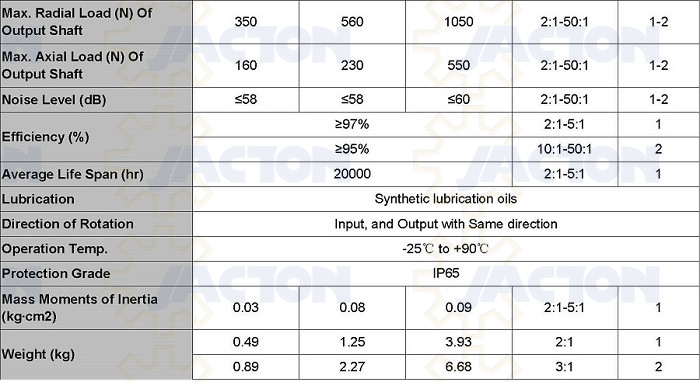 JAC060-L1 (1 stage and double output shafts) Dimensions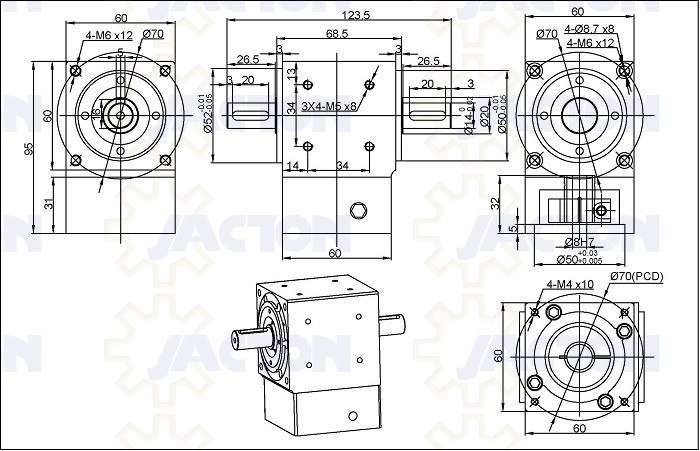 JAC060-L2 (2 stage and double output shafts) Dimensions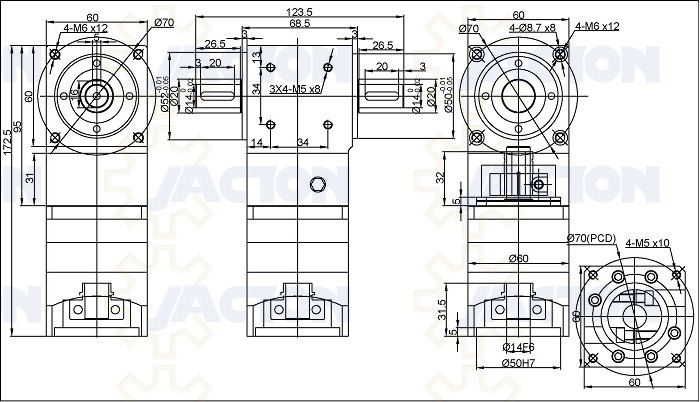 JAC060-C1 (1 stage and double hollow clamping output shaft (bore)) Dimensions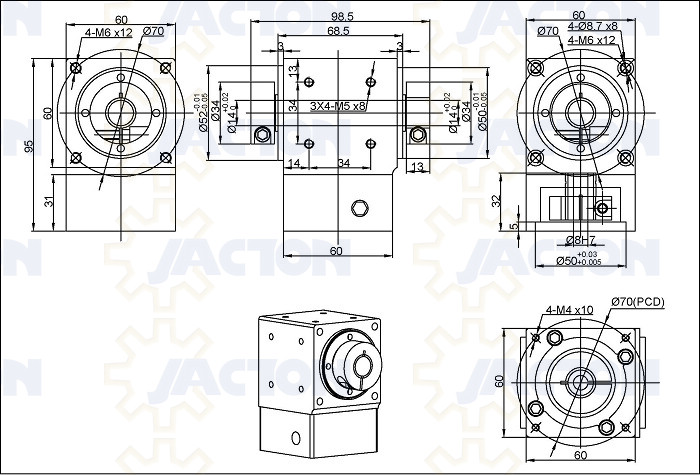 JAC060-C2 (2 stage and double hollow clamping output shaft (bore)) Dimensions