Worm gear screw jack lifts

can be driven by electric motor and operated by manual. When you hand wheel operated a screw jack, you can use a hand wheel or a hand crack with handle. Black alu. hand crank or Cast iron hand wheel are available for customers' choice.

Where to use hand operated lifting screw jack?
1. Application in where electricity or power generators is inconvenient or dangerous.
2. Emergency conditions, for example, sluice gate motorized screw jacks, when power failure, the jacks can be operated by manually via a hand wheel.
3. Light weight, low duty cycle, short travel stroke, minute adjustment, slow travel speed and intermittent positioning applications.

Important note: If must be not backdriving, a manual machine screw jack with self locking is the best choice. If must be manual ball screw jack with high precision, external locking mechanisms must need to be considered.


Important note:

If h

and operated screw jack

needs precise position display, a range of digital position indicators are available. These digital position indicators measure the rotations of the input shaft and display corresponding position in the digital counter window. The display value per input shaft revolution is variable and is achieved through a series of gear reductions configured to accommodate different worm gear ratios, screw pitch and travel stroke.





50 kN Hand Operated Screw Jack 12" Rise, 250mm Dia. Handwheel, Attached Position Indicator and Rod End Bearing (Below Picture).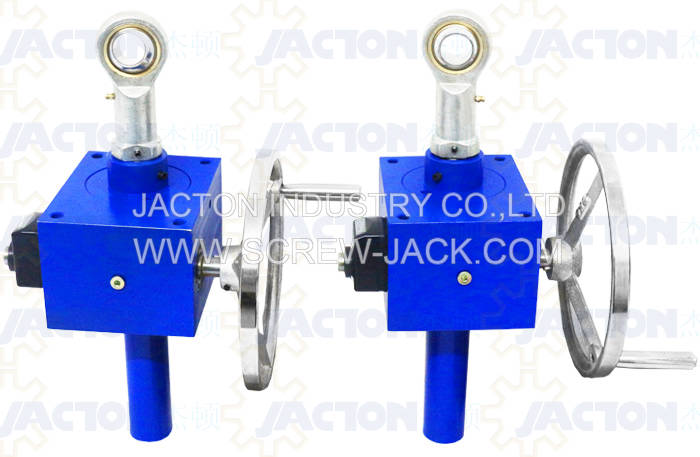 5 kN Hand Operated Lifting Screw Jacks with Travel Nut, 4"/100mm Stroke, 160mm Dia. Handwheel, Attached Swivel Plate
(

Below Picture

).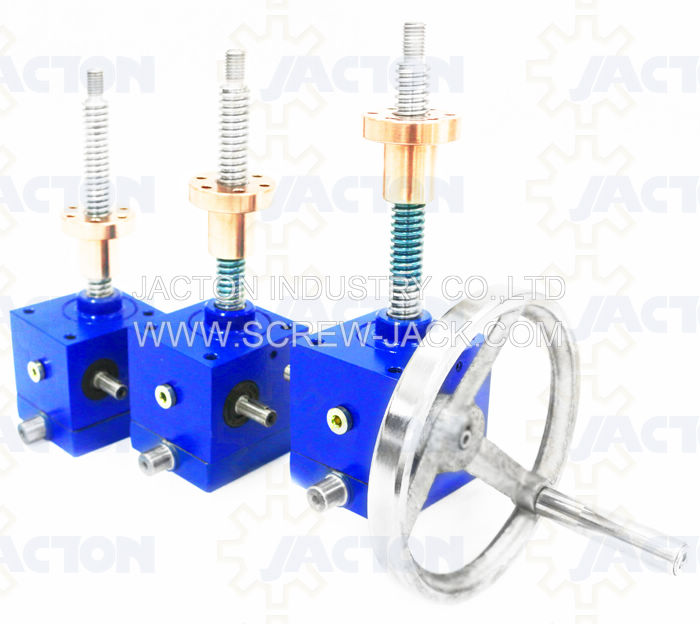 10 kN Hand Operated Translating Screw Jacks with Top Plate, 2"/50mm Stroke, 125mm Dia. Black Alu. Handwh
eel (

Below Picture

).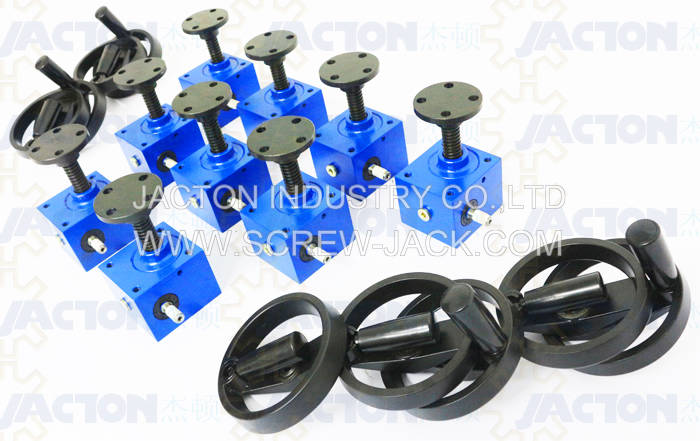 2.5 kN Mini Hand Operated Screw Lift with Lifting Nut, 60mm Stroke, 125mm Dia. Black Alu. Handwheel
(

Below Picture
).